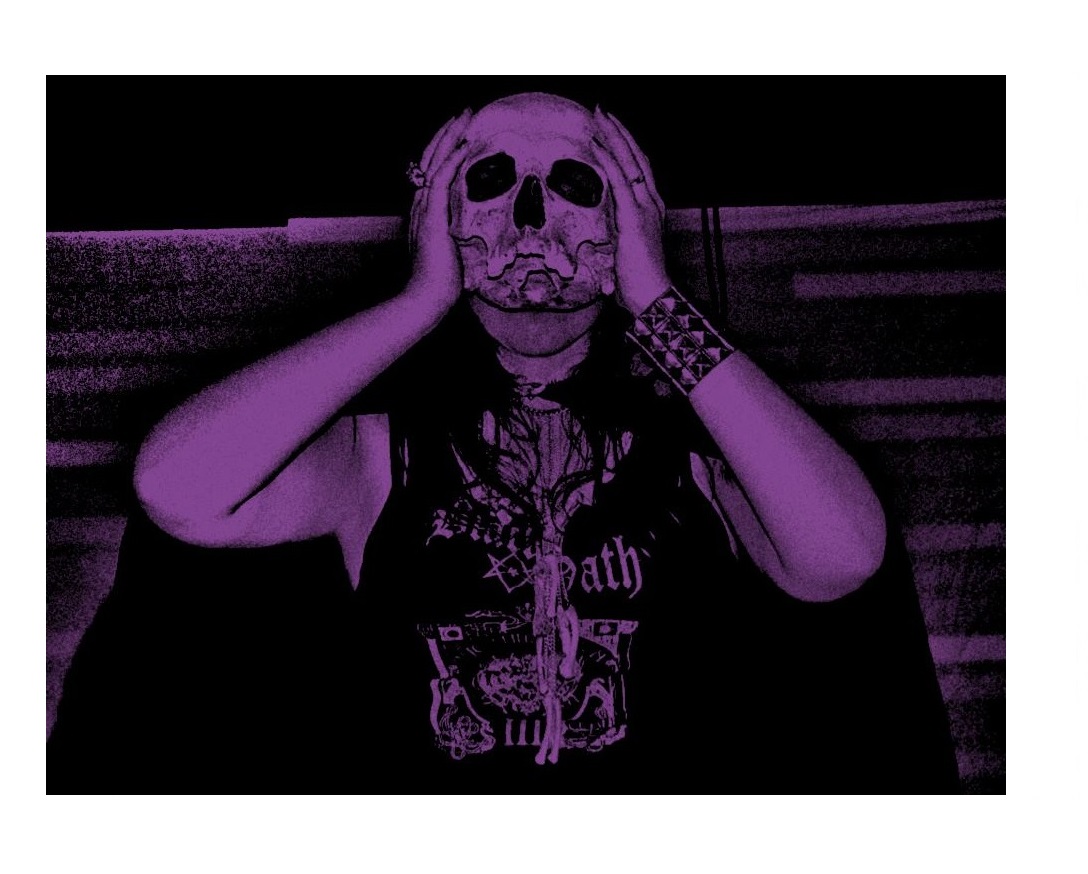 BFB Radio: Wings Of Metal
Born for Burning is all about leaders, not followers, and a leader whose work we greatly admire took time from her insanely busy schedule to take over BFB Radio and answer a few questions for us. Annick Giroux has been the driving force behind Wings Of Metal, one of the top heavy metal festivals in North America for a number of years, but this upcoming sold out 2017 Wing Of Metal fest will be the final edition. While we are sad to see it go, we hope all of you smart enough to attend. She also put together a killer ALL CANADIAN playlist to toughen up you maniacs headed to get your heavy metal fill this weekend.
TO BE PLAYED AT FULL VOLUME ONLY!!!
BORN FOR BURNING:For those that aren't familiar with your work yet, can you give a little introduction of who you are and what you do
ANNICK GIROUX: Hi HEABYMETAWHUNTA, I hope you are well!! Thanks for doing such a killer website, which I am more than happy to be part of! So, my name is Annick Giroux and I was born in Ottawa, Canada – the home of Exciter and Witchkiller. I work as a professional graphic designer, which I've been doing since I was 11 years old, with my first fanpage about the metal band X-JAPAN, ha ha! I'm also a musician (vocalist/bassist/keyboardist) that plays in the heavy/doom band Cauchemar, a food-obsessed maniac (I released the book Hellbent for Cooking), an editor (did Morbid Tales and Les Templiers fanzine) a traveler (did a 18-month trip around the world in 2011), a promoter (Hot Metal Prods/Wings of Metal festival), a record collector and quite recently, a label owner (Temple of Mystery records). It sounds insane like this, but it's all little projects that have been going on for years.
BFB: Tell us a little bit about the history of the Wings of Metal festival. How far back does the idea for the festival go and how did you get it started.
AG:I suppose you could say that the festival started under the name "Doom Over Montreal", a mini-fest that I organized which had Pagan Altar headlining, in 2010. It was just a one-time deal, but the idea of a real, bigger festival stuck in the back of my mind. When I went to my first real European festivals in 2012 (Hell's Pleasure, Keep it True and Hellfest), an idea gelled in my mind. The underground metal scene is so strong and moving at such a great pace in Europe, but most of the time we'd never get the chance to see any of those bands over in Montreal. And flying out to Europe every time to see bands I needed to see was completely out of the question! So the idea of Wings of Metal came like this – I'd book a festival around bands I want to see over in Montreal, and at the same time, locals would enjoy it too. It was just too perfect! I was joined by my friends Carolina Vanegas and Martin Marcotte for the first editions and together we brought some killer bands which I thought I'd never see in my life.
BFB: It's very cool to have a fest like that in North America that gives the European festivals a run for their money. What have been some highlights of working on Wings of Metal? What are some of your favorite bands to have worked with, to have seen perform live.
AG: Wings of Metal has been an insane trip so far – it really takes up a lot of work and sleepless nights, but the weekend of insanity makes up for it. It's so much fun, and you get to see so many great bands and people in such a short amount of time, it's like being transported to another world for a few days! There are a lot of highlights – some of being having some bands that never or rarely played live before, like Megiddo (their set in 2013 stays one of the best I've ever seen), booking the first North American gigs for some of my favorite acts (Satan, Holocaust, ADX), getting to know band members personally, DJing for 300 maniacs and the icing on the cake – the Sunday metal market! Imagine the whole venue transforms into a metal market where vendors, locals, labels and musicians sell some second hand records, shirts and all sorts of goodies. It's up there with the vendors at some European festivals, plus you get local pressings as well – a lot of Banzai and Cobra records stuff, for the ones who appreciate that. Satan was probably my favorite band to work with. Each one of them is a true gentlemen, and they put on one of the best shows I've ever seen. To understand you'd have to be there – the energy that night was electric. Angel Witch was really amazing. Also, Vulcain were rock'n'roll as fuck. These guys might be in their late 50's but they could teach anyone a lesson on badassness. Cops were waiting for them at their arrival in Montreal, because they were too drunk on the plane haha! They were pleased about it because the line-up at the airport customs was really long, and they cut right through it hahaha!!!
BFB: This being the last wings, any surprises up your sleeve? I imagine you intend to go out with a bang.
AG:Yes, as with every edition – I always follow a formula. NWOBHM, Canadian Metal, upcoming bands, established cult bands, and a totally "WTF" surprise band. The surprise band, which is the last band to be announced, will be a huge deal. At least for me!! Haha!
BFB:Lets talk LPs. You've been collecting for a while now, years ago there were fewer collectors so the circle was a bit more connected and even though we had never met, your name came up often through mutual friends. How did you come into collecting records, and how do you feel about reissues and the resurgence of its popularity. Also, what would you say is your prized possession and what's the biggest record want you been after for a while.
AG:I've been buying records since I got into music. My first ever LP purchase when I was about 13 was a Black Sabbath compilation record I got from Tales and Tunes in my suburb of Orleans. I then picked up Led Zeppelin IV from the same store, and then later, Jimi Hendrix's Are you Experienced and Sex Pistols' Nevermind the Bollocks. Everything stayed except for the Sex Pistols LP, haha. The real collecting happened when I started going to Montreal and finding some great deals. Back in 2005, records were priced obscenely low. $5 for Obsessed by Cruelty on Banzai, $10 for the Mercyful Fate EP. You'd pay no more than $15 for a second-hand record. But now, the problem is flippers and discogs. Record collecting has become so trendy since those days that everyone wants a S/T Bathory on Banzai, and since it was released at only 500 copies, what should normally have been a $15 second hand album goes for $700! I have no problem with reissues, as long as they are well done, sound good and have no useless bonus tracks. I buy them if the orig pressings are too hard to find. Sometimes I upgrade them with original pressings and just sell the reissue. I think they are great because they keep the prices of original pressings lower! One of my most prized possessions is Razor's Armed and Dangerous on Voice Records, signed by all the guys in the band including Sheepdog! I am not a sucker for autographs normally, but this is fucking cool anyway. I also love my Black Hole – Land of Mystery record, which I bought second hand in Italy in 2012. I don't really have big wants right now. I have "little" wants like the S/T KISS album, Thin Lizzy's Whiskey in the Jar 7", Judas Priest's "Deceiber" 7", Sortilège's Larmes de Héros. Would love a Sepultura – Morbid Visions Cogumelo press, as well as the Y Diawled – Noson y Blaidd 7" too now that I think about it. But overall, I'm pretty satisfied with what I have now!
BFB:When we met previously, we had a quick chat about your flyer artwork, and you informed me that you actually do all the graphic work yourself. How did you get into graphic design, and what's usually the creative process behind your work.
AG:Like I said earlier, I started doing graphic design as a hobby when I was 11-years old. I did web design as well as drawing and graphics. I was using Paintshop Pro at the time, and my work was quite primitive – but it was still a good beginning. I took on graphic design in college, which was a 3-year course, then worked in several corporate settings. I've been freelancing since December last year, and it's been SO good!! I'm doing 70% music and 30% corporate work right now, working with three labels and a company. I love it and it's keeping me sane. Anyway, to answer your question – there are a lot of different ways to tackle a graphic design task. I ask a lot of questions and try to understand what is needed, then I either sketch something on paper or in my head (I do this instead of sleeping sometime) and come up with a first draft, then work with the client until I achieve something good. I also have a little folder with typography/artwork/design work that I like and look at for inspiration.
BFB:So besides running a festival, you also put out a very well done now defunct zine (Everyone should try and snag an old copy of Morbid Tales if you have any brains). How do you stay organized and find time to for a personal life while also managing these other things.
AG:Haha, Morbid Tales was 9 years ago, I tried to work on a #7 issue but never went around to it, yet. Maybe it will come to surface one day! But yeah, usually I work with a to-do list. I put everything that comes to mind on that list and cross off tasks when I finish them. I am ALWAYS working on something, it keeps me busy and focused.
BFB:With wings over, and morbid tales closed anything we can expect from you in the future?
AG:I will be putting all my energy into my new label, Temple of Mystery records! We have a lot of great releases coming this year! Right now, we only have three, Night Gaunt – Jupiter's Fall 7", Starlight Ritual – Age of the Universe Cassette EP and we'll be releasing Droid's Terrestrial Mutations album on cassette in a few weeks. And of course, some new Cauchemar material should see the day within a few years. Oh yeah, I'm also moving to the countryside next spring so the label HQ will be over there.
BFB:Any last words of advice you'd like to leave to anyone who reading this?
AG:  For collectors – don't spend all your money on Discogs top rarities, you're just jacking the prices up and making it harder on everyone. For graphic designers, bands and promoters – always remember that album/poster artwork will outlast all of us, so always do your best in terms of graphic design. Don't cheap out! And for metal maniacs everywhere, don't take your scene for granted. Support your local bands and promoters as much as you can. If you don't, it's just going to die. Cheers!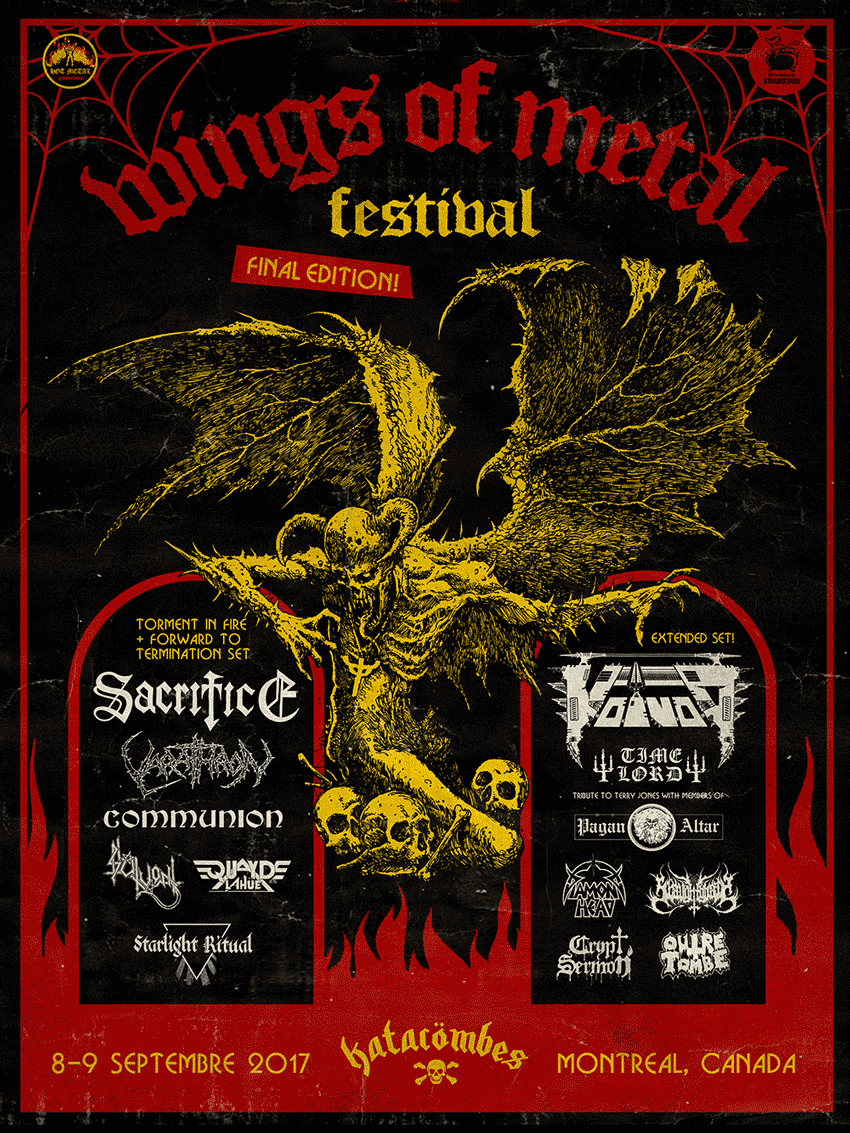 The Playlist
---
Sacred Blade – Of the Sun and Moon
Lord Ryur – Pact with a Sinner (the closest NWOBHM-sounding band we had!)
Deaf Dealer – S/T song (Canadian Iron Maiden!)
Witchkiller – Day of the Saxon (Heavy meal from my hometown of Ottawa. These guys should have made it bigger!)
Thunder Rider – Black Wing (our Canadian Manilla Road!)
Minotaur – Burner (Killer NWOBHM-sounding band)
70s stuff:
Dan Jefferies – Century (The Canadian Judas Priest!)
Moxy – Out of the Darkness (Amazing heavy rock)
Northern Haze – Anivunga (OK it came out in 1985 but it sounds 70s as fuck! Amazing Inuit hard rock!)
BTO – Not Fragile (Canadian riff rock! Amazing stuff)
Dyonisos – Agneau de Dieu (One of the few killer French-vocal heavy rock bands from Quebec)