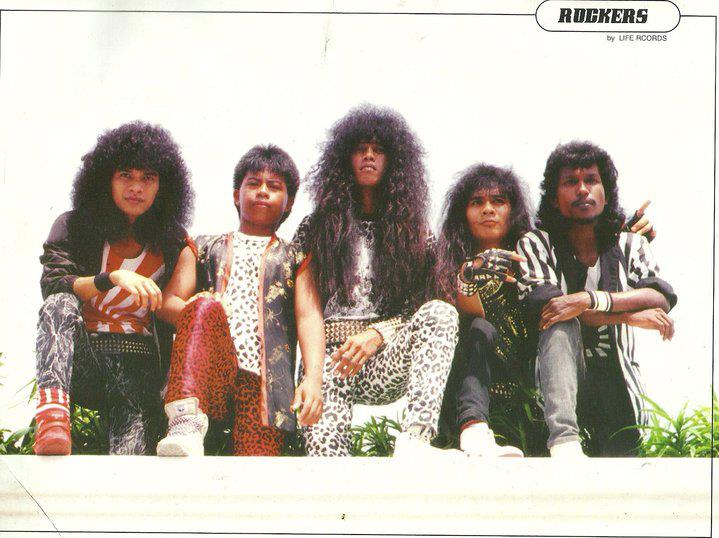 Born for Burning Radio: South East Asian Steel
Big hair, big shades, bad style, and some of the best low-fi Heavy metal played with total conviction; all this combined together to give us the criminally underrated and overlooked South East Asian heavy Metal scene during the 80s. We're here to help spread the SEA Heavy Metal disease to you, and to help us, we conspired with an expert and a crucial mover within the current SEA scene today, Iwan Uchida of Lobotomy/Nightwolf. He put together the playlist, and gives us the breakdown and quick history of each band. Born For Burning presents: TOTAL SOUTH EAST ASIA STEEL
"Hello There.Thanks to Heabymetawhunta for inviting me to be a part of this.Im Iwan Uchida from
Malaysia.Im doing work as freelancer in here..im a guitarist for Speed Metal band LOBOTOMY and
Bassist/Vocal(Now guitar/Vocal) for Black/Heavy Metal band NIGHTWOLF and i do play with some
other bands in my past.Here i will share to you my Playlist from some 80s/early 90s rare&obscure Heavy/Speed
Metal band that came from South East Asia while i know everyone is busy praising Obscure Japanese
Heavy Metal nowdays(Including me haha) but its really pleassure to share to all of you some tunes
from South East Asia country like Malaysia/SIngapore/Indonesia.Hopefully you will enjoy it!
The Heavy Metal scene in Malaysia start already in early 80's and probably dead in early 90's.
Playlist that i share this time for BORN FOR BURNING is my personal choice.SAXO/BABYLON/TERAS/VILLOSA
RUSTY BLADE/JUNCTION/WHITESTEEL is my most fav.some of them still active..some are going commercial
BUT this time i want to pretend that it never
happen and i just look at how good they are in their early days.HEAVY METAL IS TIMELESS !!"
"KISS THE STEEL FEEL THE METAL!THIS IS TOTAL SOUTH EAST ASIAN HEAVY/SPEED METAL STEEL !"
1-Ababil-Ababil. Before Ababil the band name was called History..formed in 1989
and release only one album(Self title) on that time and split up later.
2-Babylon-Metal Fire. From the first album.The Band originally formed in 1981 but they release only 2 albums
almost 10 years later in 1990 and second in 1992.The most
unique about the band is the vocal and the guitarist are
twin brothers and most important members of the band.one of
Malaysian Heavy Metal band that wrote a lyric in English.
3-Crossfire-Balasan.Traditional Heavy Metal style!Formed in 1989 and release 6 studio album
but i'll prefer the first three album are the best for me!Song taken
from their second album in 1990.
4-Dilla Hussien-Angau. Lee Aaron influence!Before going solo she had a band called Son Of Adam but
she doing it better after going solo in early 90's.
5-Junction-11LA. Best Nwobhm/Traditional Heavy Metal!Formed in 1985 and release 3 albums.The last
album is the best and here's the track from their third album!
6-Justice-Pribumi.close to Nwobhm!Originally from Singapore formed in 1988 and release two albums
before split up in 1992.
7-Lipan Bara-Ibu Pertiwi.Formed in 1988 and release 2 albums in a same year later in 1991.
This is my fav track from them!
8-Mel Shandy&Metal Boyz-Ngeri. The only Heavy Metal band from Indonesia that i put in the Playlist.
Already formed in 1986 and this is my most fav track from them.
Great Traditional Japanese Heavy Metal style!
9-Metalian-Kabus.Another close to Nwobhm.Metalian Formed in 1980 but still with some 70's
Hardrock influence on that time but change the style later and release two albums
later in 1987 and 1988.
10-Riyadh-Kutukan Talibarut.Release only one album in 1988.Nothing much to tell about this band
cause their are short live band.but even only one album this is the best
from them!
11-Rockers-Dukun. If US got RIOT.Then Singapore got ROCKERS!One of best Heavy/Speed Metal from Singapore
This taken from their last Album cause this is the best album their ever made!totally
Heavy speed as fuck!they release 4 albums and the first 3 albums also great but the last
album is the best!Formed in 1979 using the name KILLING MACHINE before change to ROCKERS!
12-Rusty Blade-Wira. Another one from Singapore.Singapore IRON MAIDEN?yes!and this is one of GEZOL and
NEAL TANAKA personal Favourite band!Formed in 1985 and release 4 album!
highly Recommend!
13-Saxo-Tak Kalah. Probably one of the earliest Speed/Thrash Metal from Malaysia that formed in 1984
and release only 1 album in 1990 and one of Masterpiece album that should have!
Before that in 1988 their have release one compilation track.My most personal fav!
14-Sofea-Dewi Khayalan. Malaysian WASP??Orgininally formed in 1978 known as SYJ before change to SOFEA.big influence
from WASP and early Motley Crue.totally wild on stage!this is my fav track from
them but dont be surprise cause they already doing WASP cover in their second
album but in malay lyric back in 1988! here is the link https://www.youtube.com/watch?v=kVyrgvG2xYE
15-Spring-Kawah Berapi. Before the band start going commercial shit..the first album was fucking raw!lets
just do not think when the band start going sucks..just think about how good
they are in their early days.
16-Stroyer-Pemusnah. Short live band formed around 1987/1988 and release only compilation track.They should
do it more.
17-Sweet Charity-Penunggu. Formed in 1967 in Singapore and one of the earliest heaviest band that ever exist on that time.
Malaysian early proto Doom Metal?If you are into Black Sabbath/Iron
Claw/Lucifer Friend/The Black Cat Bones then you should hear this!
18-Teras-Sengketa Dunia. Best Heavy/speed Metal that came from my hometown!They should make it more
bigger!Release only one album in 1991.
19-Villosa-Pocong. Formed in 1989 and release only one album in 1991.Very unique Heavy/Speed Metal Style!
20-Whitesteel-Sengketa. another best Nwobhm style by Whitesteel!Formed in 1985 but never release any album
only two compilation ep.The band split up in 1988 and later the vocal going solo.